Charming Mediterranean villages steeped in history.
Delectable French gastronomy.
Snorkel and swim in crystal clear waters
Enjoy paddleboarding in secluded bays
Visit iconic celebrity hotspots.
Excellent sailing conditions and gentle sea breezes.
Seven days & nights on a sailing yacht 
Professional and friendly skipper
Safety and navigation equipment
Sheets and towels
Learn to sail with your skipper
Dinghy with outboard and gasoline
Get ready to set sail on a wickedly cool and utterly epic 7-day sailing escapade in the stunning Cote d'Azur! First up, we'll drop anchor at the paradise-like Ile de Porquerolles for some sun-soaked beach bumming and island vibes. Next, brace yourselves for some serious luxury and dazzling views at the classy Cap Negre.
Hold on tight, because we're headed to the glitzy and glamorous St. Tropez, where the yachts are as fancy as the cocktails! Sailing high on the Mediterranean waves, we'll reach the enchanting Ile du Levant, where nudists roam free (wink, wink). Finally, we'll wrap up this rad journey at Ile Port-Cross, where marine life and cool snorkeling spots await.
Prepare for unforgettable days at sea, wild nights in chic ports, and Instagram-worthy moments galore. So, grab your sunnies, pack your party pants, and join us on this adventure of a lifetime! Let's rock the Riviera, sailor style! 🌊⚓️😎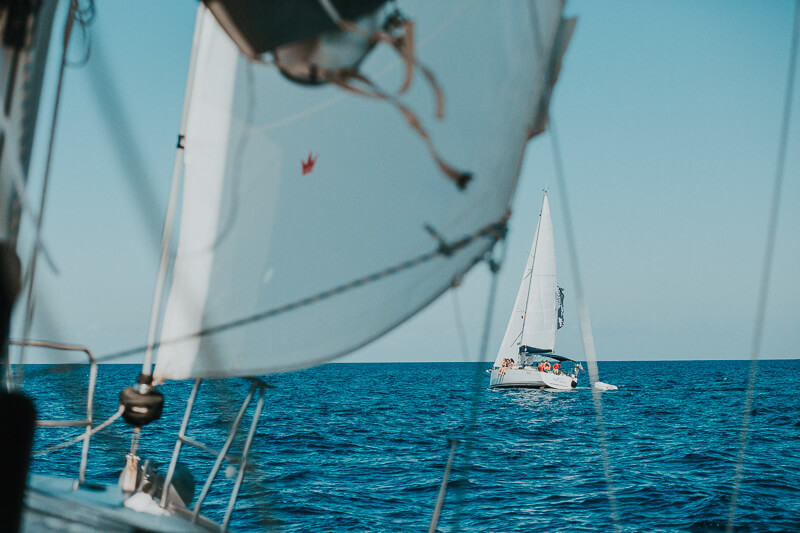 Uncover hidden treasures at Ile de Porquerolles. Pristine beaches, turquoise waters, and lush landscapes create an idyllic sailing haven.
Sail the stunning Cote d'Azur
Discover Côte d'Azur Itinerary
Leaving from Port Pin Rolland our first stop will be Porquerolles island. With its dazzling beaches, turquoise waters, and lush landscapes, this hidden gem is a sailor's paradise. Drop anchor at idyllic coves, catch some rays on secluded shores, and snorkel through vibrant marine wonders. Embrace the naturist-friendly vibe, and if you're feeling adventurous, hike to the island's charming village.
Porquerolles offers the ultimate blend of relaxation and excitement – a nautical escapade you won't forget! 
Get ready to sail into pure luxury at Cap Negre in Franch Riviera. This exclusive coastal playground is a sailor's paradise of opulent marinas, stunning cliffside views, and upscale living. Drop anchor and dive into an indulgent world of glitzy beach clubs, chic boutiques, and sophisticated nightlife. Channel your inner VIP as you cruise along this chic coastline, savoring every moment of the high life. Cap Negre is where nautical dreams meet extravagance – a seriously cool sailing experience you won't want to miss. So, set sail, raise your glass, and let the good times roll in this French Riviera hotspot!
This hidden gem is a marine wonderland of vibrant underwater life and captivating snorkeling spots. Drop anchor and dive into a world of aquatic enchantment. Explore secluded coves and pristine beaches, perfect for beach bonfires and sunset chill sessions. Channel your inner explorer as you hike through lush landscapes to discover the island's rich history. Port-Cross is the ultimate blend of adventure and relaxation – a nautical journey that'll leave you spellbound.
Get ready to cruise in style to the glamorous haven of St. Tropez. This legendary hotspot is the playground of the chic and famous, where luxury yachts and trendy beach clubs reign supreme. Drop anchor and dive into a world of sophistication and glitz. Rub shoulders with the cool crowd, shop in high-end boutiques, and dance the night away in posh clubs. St. Tropez is where sailing dreams meet red carpet allure – a sailing adventure that's as hot as the summer sun.
Marine wonders at Ile Port-Cross
the mediteranean paradise
7 Days Island Hopping
Ready to level up your summer game? Embark on an epic 7-day island hopping sailing holiday in Cote d'Azur! Sail the chic French Riviera, hopping from one breathtaking island to another. Indulge in the glitz of St. Tropez, unwind on the pristine shores of Ile de Porquerolles, and dive into marine wonders at Ile Port-Cross. With each stop, you'll discover a new paradise and embrace the ultimate sense of freedom on the open sea. Sun, sea, and adventure – all rolled into one cool package.
Superior Yacht
Your boat will be your lovely floating home for one week. We have only 4 spots free on a Superior Yacht - Jeanneau Sun Loft 47, outfitted with all of the appropriate navigational and safety gear. They also come with a fully equipped kitchen and cooking appliances, fridge for cold drinks, as well as all bedding and towels. Also, the dinghy, outboard engine, paddle board and end-cleaning are all included in the rental price. The only thing left for you to do now is board the boat and have the fun of your life.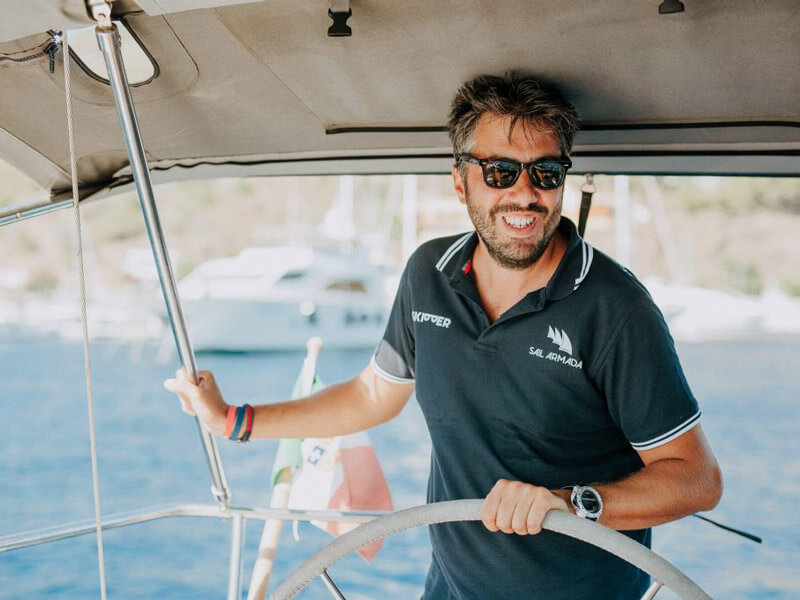 Skipper
Your experienced skipper has completed intensive training, allowing you to unwind and enjoy the yachting lifestyle. Your skipper is not just your new best friend who knows all of the hidden gems, but they're also there to guide you through all of the wonderful attractions on your itinerary and they'll be more than happy to share some sailing skills and teach you the basic of how to navigate a yacht. Be ready to take part in a friendly regatta by the end of the week! 🙂

"GET YOUR FRIENDS ON YACHT" – SPECIAL OFFER !
Take the initiative to gather a group of friends for a full yacht and get an amazing deal:
Form a crew of 6, 8 or 10 and get 50% OFF your spot.
Use code "MYGANG" when booking.
BOOK NOW with only 100€ deposit!
Secure your spot on a fabulous sailing week and lock the Early Booking price.
Superior Yacht – Jeanneau Sun Loft 47
Special Offer – €912 €800/pp – last 2 cabin, payable in 2 installments:
– 400€/pp – 

to confirm your spot


– 400€/pp – 20 days before departure (14 AUG)
Regular price – €912/pp
Taxi
We can arrange your transfer from the airport to Port Pin Rolland, Saint-Mandrier-sur-Mer with transfer companies. The prices depend on the number of people and the airport you are arriving at. It should be around 60-80 Euro/pers.
Bus/Train
You do have some train and bus options but they take around 4-5 hours to get in the marina. Go check out Rome2Rio to see more details about public transportation.