Connect with nature on an active vacation
Two professional fitness trainers
One yoga trainer
Various workouts every day
Sunset meditation and conscious breathing sessions
The freshest healthy food in local taverns
Snorkel and swim in crystal clear waters
Enjoy paddle boarding in secluded bays
Discover the Sailing Life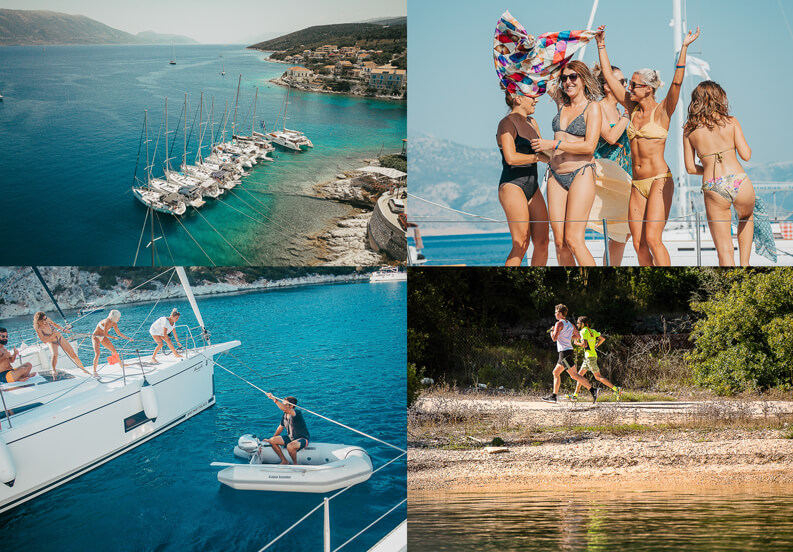 Seven days & nights on a sailing yacht 
Professional and friendly skipper
Professional fitness&yoga trainers
Two various workouts every day
Safety and navigation equipment
Sheets and towels
Learn to sail with your skipper
Dinghy with outboard and gasoline
End-cleaning
How about combining your favorite workouts with a dream vacation?
We all know the advantages of living a healthy lifestyle, and we want you to continue doing so while on vacation!
Velactive is a perfect 7-day yacht holiday in Greece, exploring the magnificent and golden sandy beaches, islands, and pristine bays.
The uniqueness will be that we will blend nature, fun, and friendliness with various sorts of exercises, entertaining games, challenges, stretching, meditation, and conscious breathing. And not just anywhere, but in the middle of nature, with the sunset as a background. Be sure you will return from your holiday in top shape and with wonderful memories!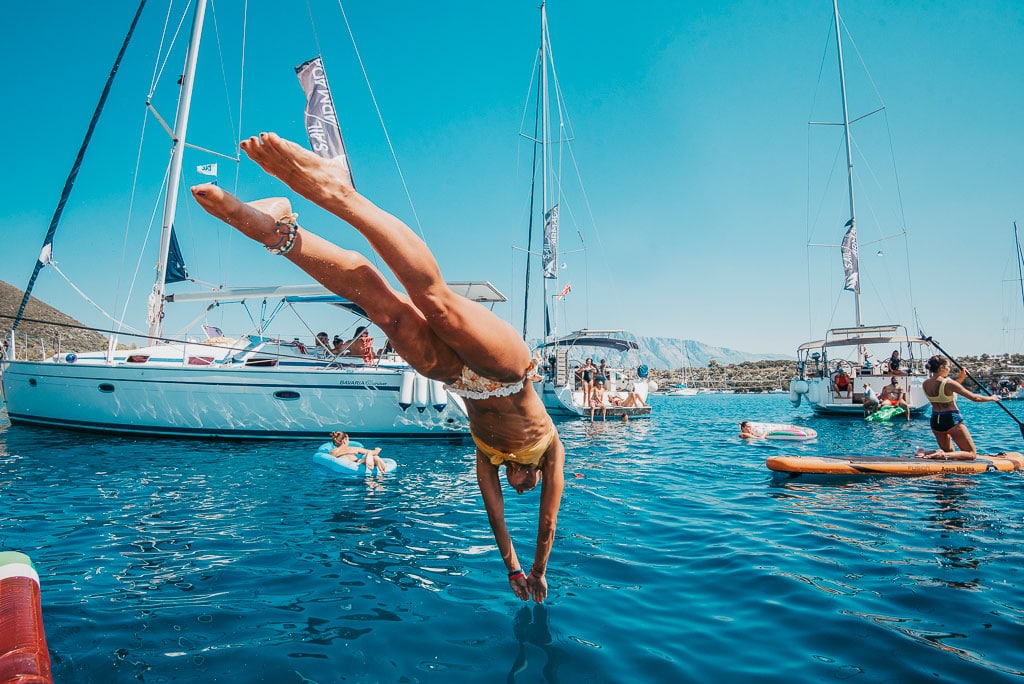 Explore the best areas of the beautiful Saronic Islands, while staying active. Crystal clear water, top professional fitness trainers, sailing to a new island every day and lots of fun – this is the Velactive Experience.
Russian Bay is our first stop on our journey. We will anchor in this beautiful spot, which will serve as our crystal water pool for the afternoon activities. Prepare for some exciting Survival-style challenges on the inflatable water park, or take a free kayak or SUP and explore the nearby secluded small island with a chapel. You can go for a short relaxing hike up the cliff or prepare for some sunset stretching and meditation near the ruins of an old WWII Russian fort.
We'll end the day with a delicious barbeque dinner, and probably the best-grilled sea bream in Greece at the traditional Greek tavern on the beach.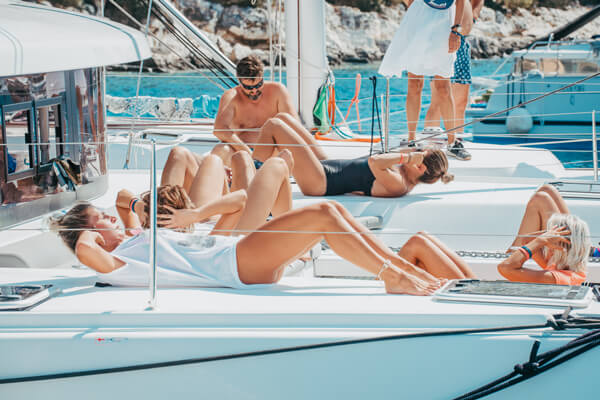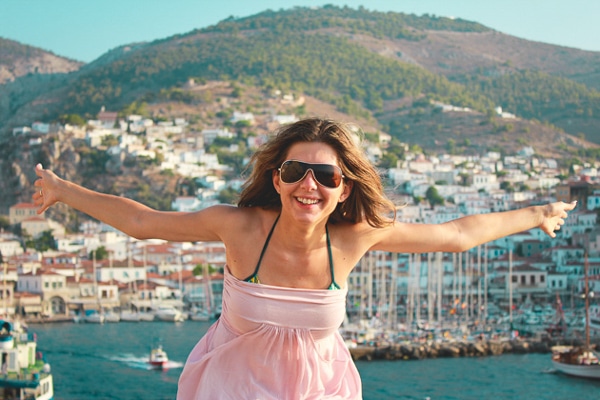 Hydra is a small beautiful island, where Elizabeth Taylor and Leonard Cohen bought properties. The streets are narrow and steep, without parking lots. Donkeys are the only means of transport used on the island. No motors on Hydra!
The port is the perfect place to enjoy a coffee or a shopping session in the chic shops where you can often find nice and quality products.
Morning and evening workouts from the panoramic cliffs of Hydra will be the highlight of the week.
We close the day at a beach bar seated on a high cliff with a stunning sunset view, where we can relax with some good music and cocktails.
Dokos is as beautiful as it is wild, the only sign of civilization being the ruins of a Byzantine castle. In the north-east of the island there is a wide bay, accessible only by boat.
We will moor here and have a wild corner of nature just for us. This is the best place for snorkeling, trekking to the top of the island and enjoying a nice dinner onboard under the stars.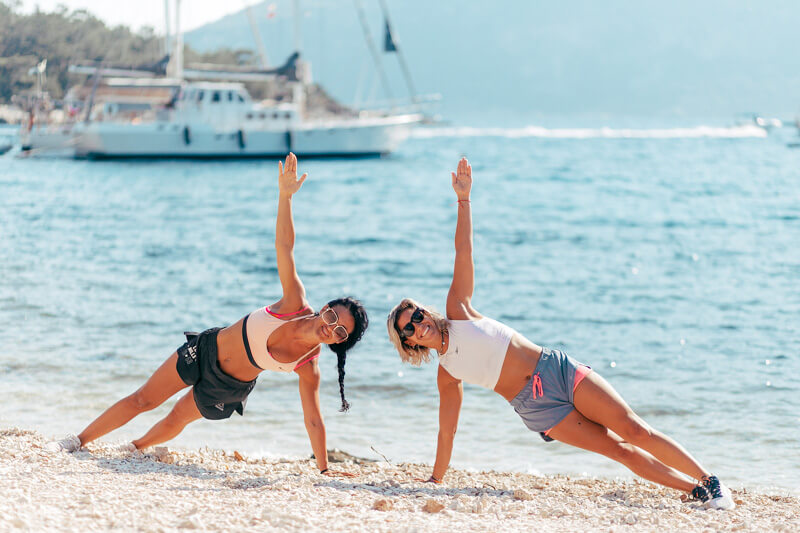 Poros is separated from the mainland by a narrow channel. The romantic atmosphere, narrow streets, taxi boats that connect the mainland with the city of Galata and the seafront terraces where you can watch dozens of yachts moor, may remind you of Venice and its charm.
The town is built in the form of an amphitheater, with traditional large houses and cobblestone streets. At its heart there is the promenade with many taverns, shops and terraces – the perfect place to enjoy a coffee and a delicious gelato.
Fitness Trainers
Kiki & Gilly & Ana will take care of the trainings specially designed for this holiday. Cristina Constantinescu has been a fitness instructor for 14 years and a specialist in recovery and kick boxing. She participated in Exatlon and is delighted to bring some of her games to Greece. Elena Trinca is a fitness instructor and a perfect dancer with 14 years of experience, she writes poetry, she is passionate about art and she makes the training sessions memorable. Ana has 14 years of Yoga expertise, teaches Yoga classes, and is a Reiki Teacher and Master.
Yacht Rental
Your boat will be your lovely floating home for one week. You can choose between a spot on a Superior Yacht or a Catamaran, outfitted with all of the appropriate navigational and safety gear. They also come with a fully equipped kitchen and cooking appliances, fridge for cold drinks, as well as all bedding and towels. Also, the dinghy, outboard engine, paddle board and end-cleaning are all included in the rental price. The only thing left for you to do now is board the boat and have the fun of your life.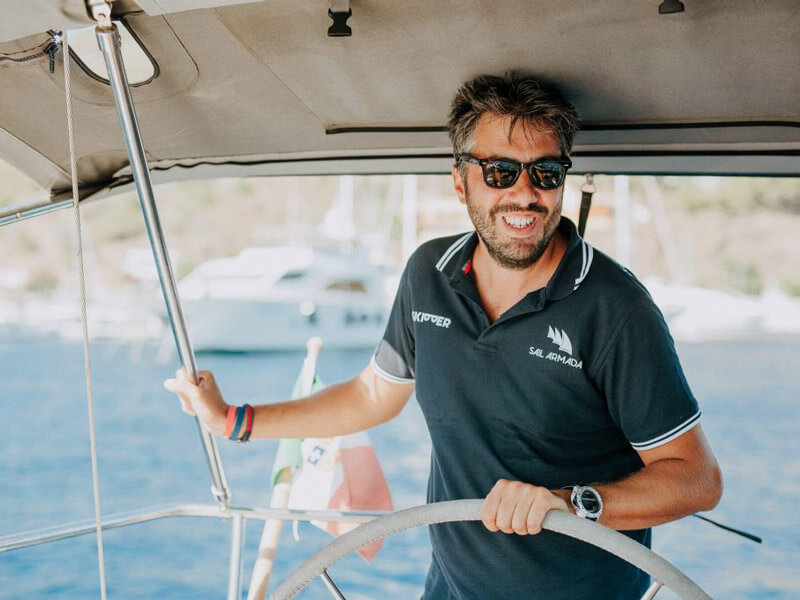 Skipper
Your experienced skipper has completed intensive training, allowing you to unwind and enjoy the yachting lifestyle. Your skipper is not just your new best friend who knows all of the hidden gems, but they're also there to guide you through all of the wonderful attractions on your itinerary and they'll be more than happy to share some sailing skills and teach you the basic of how to navigate a yacht. Be ready to take part in a friendly regatta by the end of the week! 🙂
"GET YOUR FRIENDS ON YACHT" – SPECIAL OFFER !
Take the initiative to gather a group of friends for a full yacht and get an amazing deal:
Form a crew of 6, 8 or 10 and get 50% OFF your spot.
Use code "MYGANG" when booking.
BOOK NOW with Last Minute and have the summer holiday you have been waiting for!
Superior Yacht
Last minute – €937 €887/pp – limited spots, payable in 3 installments:
– 100€/pp – pay now to book&lock the price
– 393€/pp – 

30 days after booking


– 394€/pp – 60 days before departure (24th APR '23)
Regular price – €937/pp, payable in 2 installments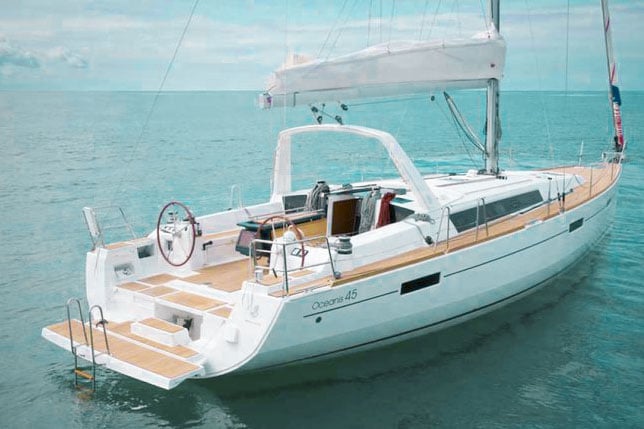 Catamaran
Last minute – €1427 €1366/pp – limited spots, payable in 3 installments:
– 200€/pp – pay now to book&lock the price
– 583€/pp – 30 days after booking
– 583€/pp – 60 days before departure (24 APR '23)
Regular price – €1427/pp, payable in 2 installments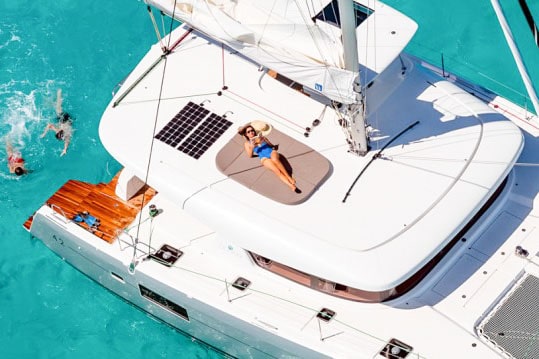 Alimos Marina, Athens – You can catch a flight to the nearest airport in Athens. We recommend using search engines like SkyScanner, Momondo, Expedia for the best deals.
Taxi
From the airport to the Athens Marina, you can take a taxi or a public bus. It will take about 50 mins and around 35 euros.
Bus
You do have the public bus express line options, that will drop you just in front of the marina. It will take about 1h and 5 euros.