How about combining your favorite workouts with a dream vacation?
We all know the advantages of living a healthy lifestyle, and we want you to continue doing so while on vacation!
Velactive is a perfect 7-day yacht holiday in Greece, exploring the magnificent and golden sandy beaches, islands, and pristine bays.
The uniqueness will be that we will blend nature, fun, and friendliness with various sorts of exercises, entertaining games, challenges, stretching, yoga, meditation, and conscious breathing. And not just anywhere, but in the middle of nature, with the sunset as a background. Be sure you will return from your holiday in top shape and with wonderful memories!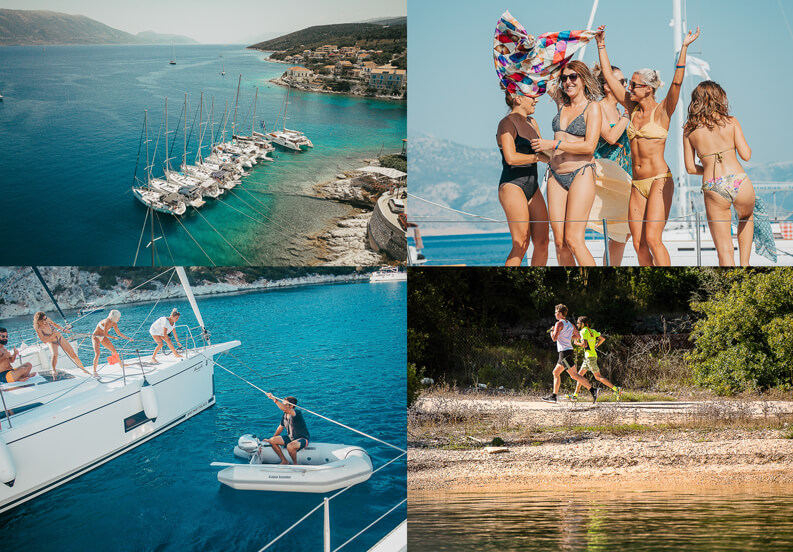 Connect with nature on an active vacation

Various training sessions in the open air, on the boat or on the seashore

Yoga, meditation and conscious breathing sessions at sunset

Sailing every day with stops in beautiful bays

Fresh and healthy food at local taverns

Wake up in a new bay every day

Swim and snorkel in the clearest waters

Test your balance on a SUP in deserted bays
Seven days & nights on a sailing yacht 

Professional and friendly skipper

Professional fitness and yoga trainers

Two various workouts every day

Safety and navigation equipment

Sheets and towels

Learn to sail with your skipper

Dinghy with outboard and gasoline

SUP and snorkeling equipment

End-cleaning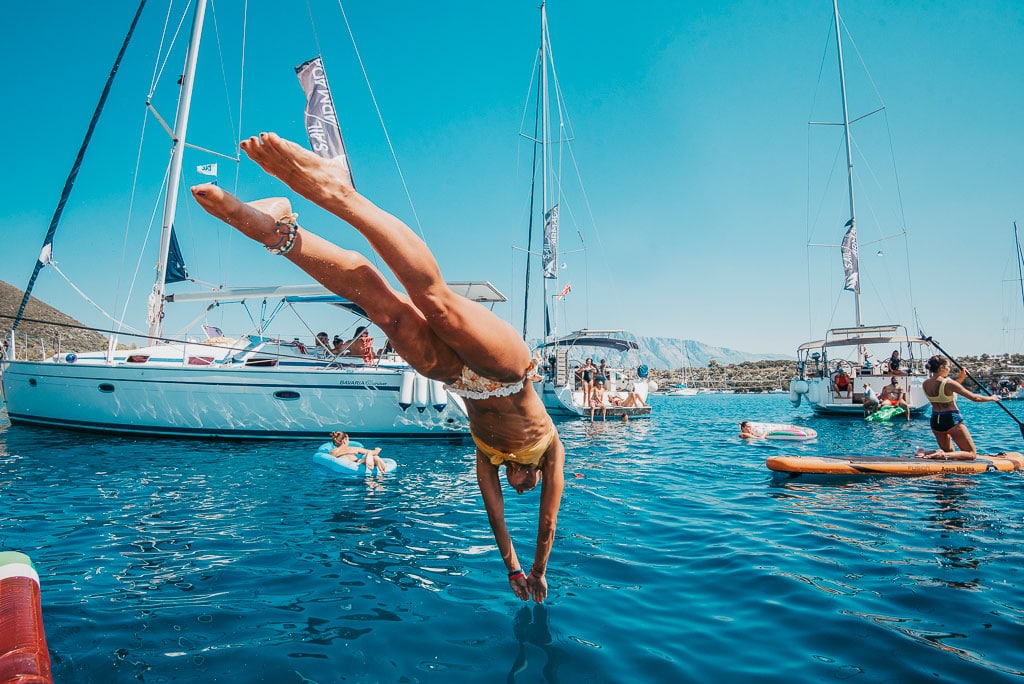 Explore the best areas of the beautiful Ionian Islands, while staying active. Crystal clear water, top professional trainers, sailing to a new island every day and lots of fun – this is the Velactive Experience.
Your 7-Day Sailing Schedule
Welcome on board

• Arrive in the marina around 3:00 PM
• Meet the skipper and the rest of the crew
• Handle the provisions shopping 
• Get on board around 5:00 PM
•  Pay the fuel&docking fees and leave the deposit
• Relax, unpack, and settle into your cabin
• Dine out, mingle, meet your sailing family
South Ionian Islands – Greece
Meganisi is the first stop on our route . The island was once a Venetian colony, which explains it's unique style of architecture. The small town atmosphere with colorful houses and narrow streets and the great taverns with fresh food from the sea make this place a perfect kick start for the week.
We anchor in a beautiful bay that will be our crystal water pool for the afternoon activities. You can enjoy a relaxing short hiking to the up cliff town or get ready for some sunset stretching and meditation.
In the evening we will end the day with a delicious fresh fish dinner at the nearby tavern.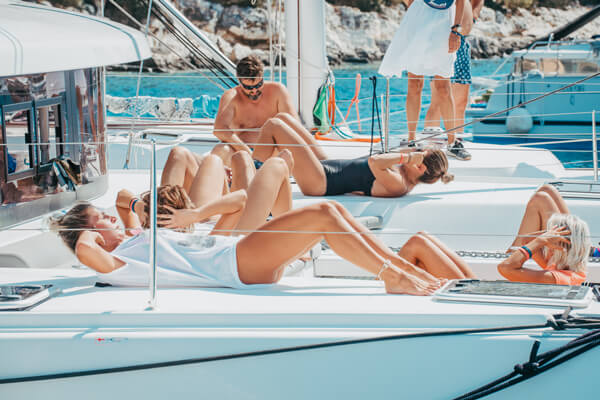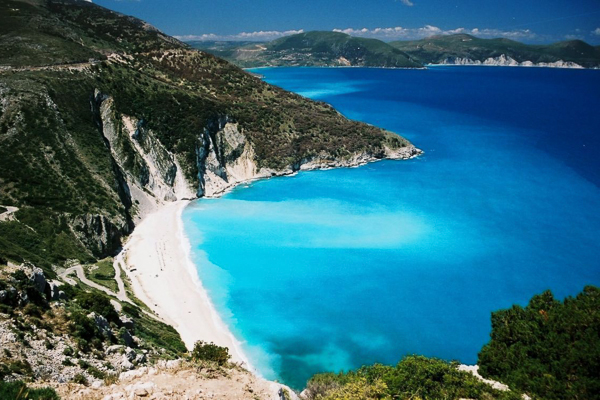 Kefalonia is the largest island on our trip. The beauty of the beaches and bays here is well known and appreciated. We will find the best ones for our morning and evening workouts and enjoy the wilderness of the island with some swim & snorkel stops.
We plan to explore the island traveling around in scooters, ATVs or cars. This will take us around the island to one of the most beautiful beaches in the world, Myrtos Beach, to the amazing Melissani cave and end the day in the beautiful town of Assos.
Kastos and Kalamos are two small gorgeous islands with some of the most beautiful beaches in the Ionian Sea. We will anchor in a wild bay, accessible only by boat and start the active fun. If you are a snorkeling lover, you will absolutely love the variety of underwater flora and fauna.
Jogging on the narrow streets of the not-so-touristic small tows, workouts in the shadow of a quiet square and evening meditation by the sea are just a few things on the to-do list.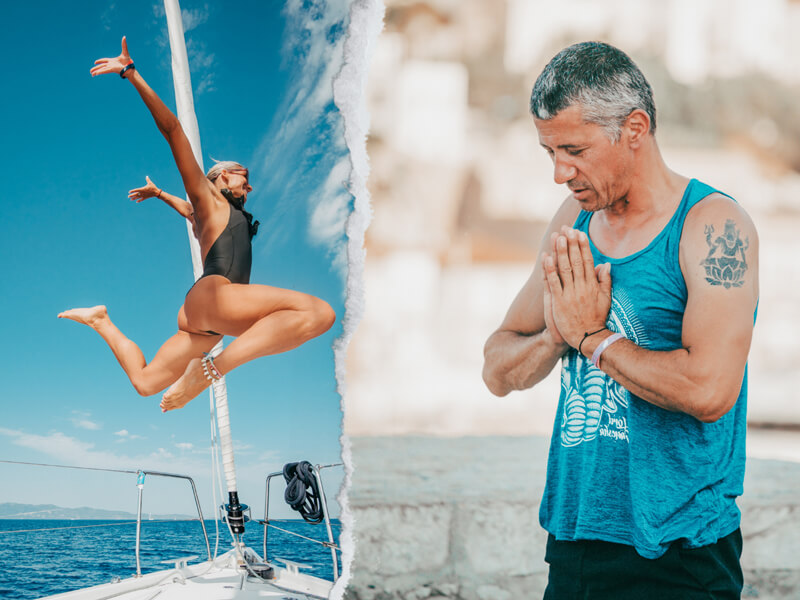 Professional Trainers
Kiki & Dan will take care of the specially designed training for this holiday. Cristina Constantinescu has been a fitness instructor for 14 years and a specialist in recovery and kickboxing. She participated in Exatlon and is delighted to bring some of her games to Greece. Dan Dumitrescu has 11 years of Yoga expertise, teaches and is an expert in Hatha, Kundalini and Jnana. As the sun begins its descent, Dan will guide you through tranquil yoga sessions on the deck of your sailing vessel.
Yacht Rental
Your boat will be your lovely floating home for one week. All yachts are Superior Yachts outfitted with all of the appropriate navigational and safety gear. They also come with a fully equipped kitchen and cooking appliances, fridge for cold drinks, as well as all bedding and towels. Also, the dinghy, outboard engine, paddle board and end-cleaning are all included in the rental price. The only thing left for you to do now is board the boat and have the fun of your life.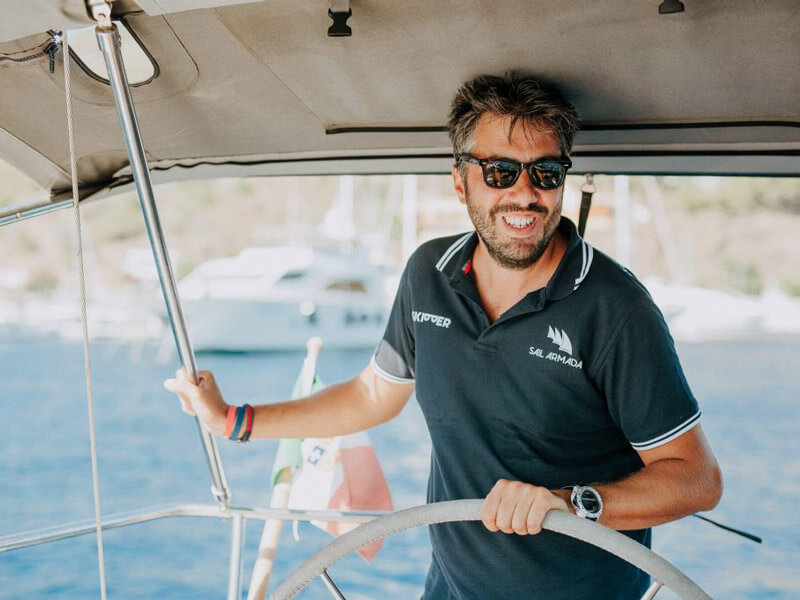 Skipper
Your experienced skipper has completed intensive training, allowing you to unwind and enjoy the yachting lifestyle. Your skipper is not just your new best friend who knows all of the hidden gems, but they're also there to guide you through all of the wonderful attractions on your itinerary and they'll be more than happy to share some sailing skills and teach you the basic of how to navigate a yacht. Be ready to take part in a friendly regatta by the end of the week! 🙂
"GET YOUR FRIENDS ON YACHT" – SPECIAL OFFER !
Take the initiative to gather a group of friends for a full yacht and get an amazing deal: Form a crew of 6, 8 or 10 and get 50% OFF your spot. Use code "MYGANG" when booking.
BOOK NOW with the SUPER Early Bird and have the summer holiday you have been waiting for! Secure your spot and lock in the special low price with just a 100€ deposit.  Valid till 15 IAN 2024 and limited spots.
Superior Yacht
Last minute – €947 €847/pp – until 15 IAN '24, limited spots, payable in 3 installments:
– 100€/pp – pay now to book&lock the price
– 374€/pp – 

30 days after booking


– 373€/pp – 60 days before departure (6th MAY '23)
Regular price – €947/pp, payable in 2 installments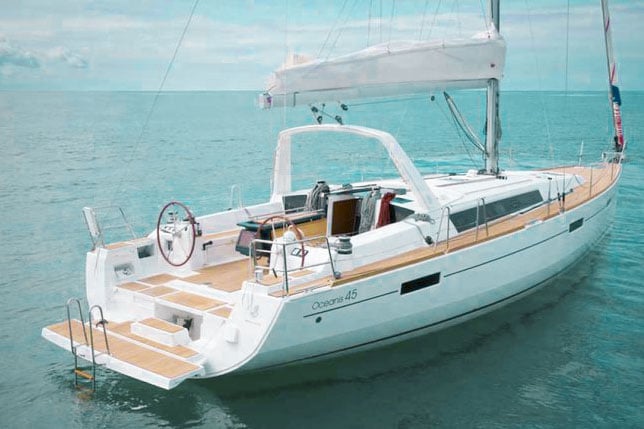 Catamaran
Last minute – €1347 €1147/pp – until 15 IAN '24, limited spots, payable in 3 installments:
– 200€/pp – pay now to book&lock the price
– 524€/pp – 30 days after booking
– 523€/pp – 60 days before departure (6th MAY '23)
Regular price – €1347/pp, payable in 2 installments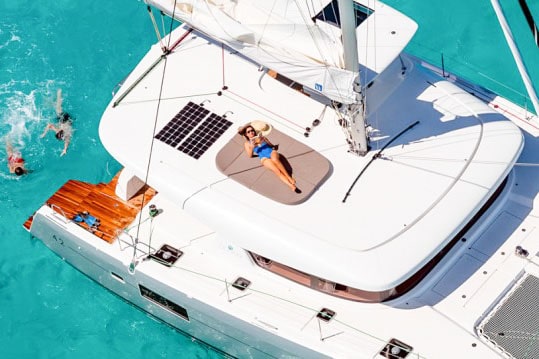 The nearest airport is the one in Preveza, Catch a cheap flight using search engines like SkyScanner, Momondo, Expedia.
If you choose to come by car, you can drive to Lefkada and leave your car in the marina's private parking. We will also have carpooling for the participants who want to share a ride to Velactive. 
Taxi from airport
Around €45/person, depending on number of people. Book one in advance or catch one on the spot. On demand, we can also make arrangements for your transfer.
Bus from airport
€3/person, 30 min drive. The ticket can be purchased from the driver, but please note there are 6 bus departures/day. Check the timetable HERE . Go check out Rome2Rio to see more details about public transportation.