Reasons to choose a 7-day sailing holiday
Remember that time you took a one-day boat cruise while on vacation and saw all those little boats lounging in secluded bays with empty beaches and you thought "Man, I would love a vacation like that someday". Well that "someday" is right now, because instead of your regular hotel vacation you can choose to sail with us for a week in the Mediterranean, where the sea-view is guaranteed 24/7.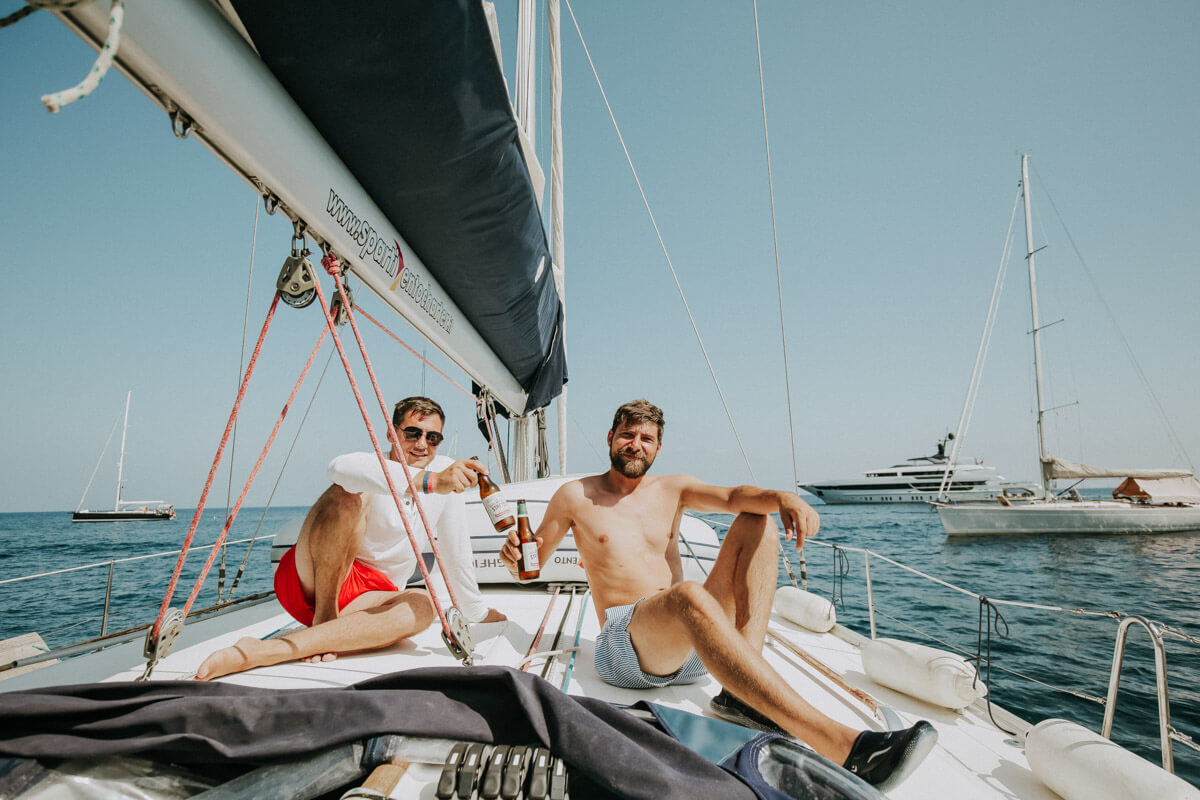 1. Not a regular sea-side holiday
First, let`s talk about the basic differences between a hotel vacation and a yachting vacation. You might be tempted to say the price is the biggest one, but we don`t agree because a sailing holiday costs about the same with a 7-day vacation at a regular hotel. The downside to staying in a hotel is that you wake up with the same view every morning, go to the same beach every day unless you have a car or rent one, which we all know is extra money. And let`s not forget that unless you go all-inclusive or rent an apartment, you pretty much have to pay for 2 meals per day at restaurants.
On the other side, on a sailing vacation, you have everything you need at reach, on your boat and you get to wake up to an endless swimming pool and to a different view every morning. Flexibility and freedom are a given because you`ll be discovering remote and unspoiled islands, with gorgeous empty beaches and crystal clear waters perfect for snorkeling, away from mass tourism. Food-wise, boat life usually means you get to share your cooking skills with the rest of the people on board since we are all about teamwork. Don`t worry, who doesn`t help with the cooking, helps with the dishes. Basically you can self-cater your own meals anytime you want.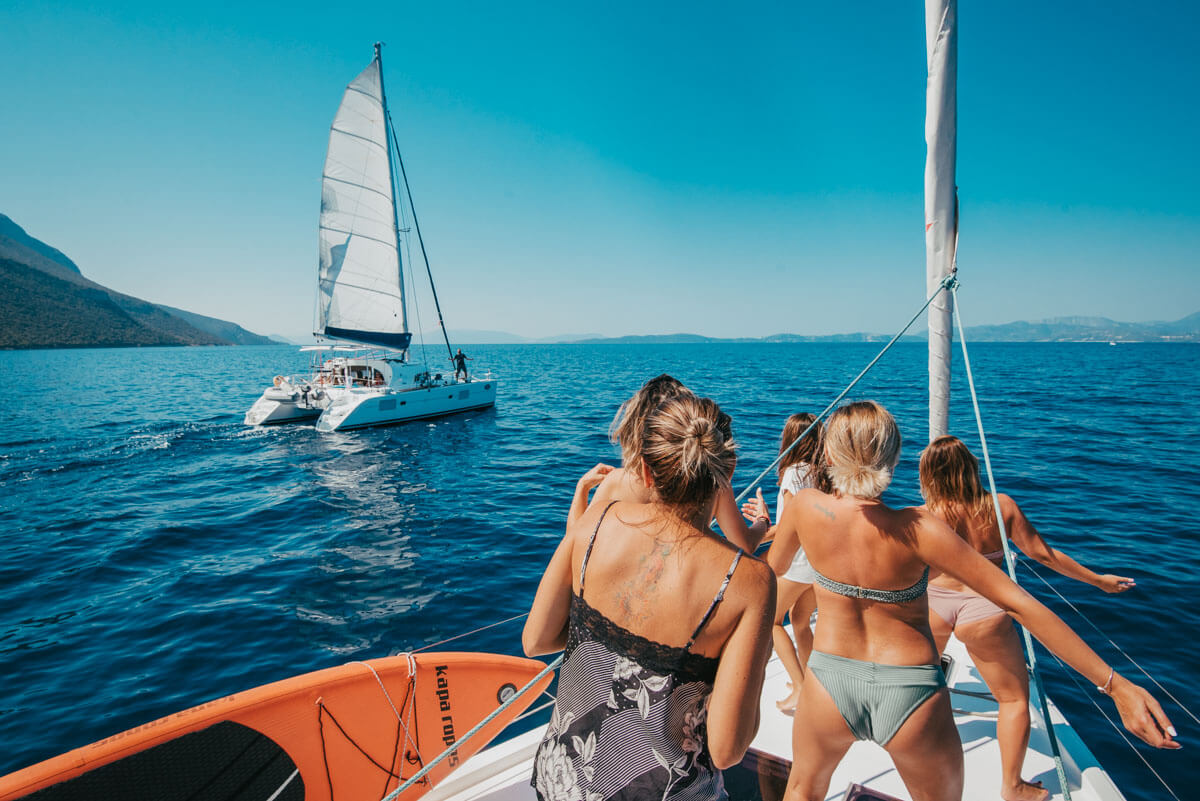 2. Boredom is not an option
If you worry that boredom will strike, there are plenty of activities for you to go around. From the moment you wake up, swimming is on the table, snorkeling, sunbathing, paddle boarding and even sailing the yacht supervised by your skipper as you move from one island to the next. When docking you can visit picturesque towns, indulge in traditional cuisine, rent a scooter to go explore the islands, mingle with the locals or just lounge on the local beach.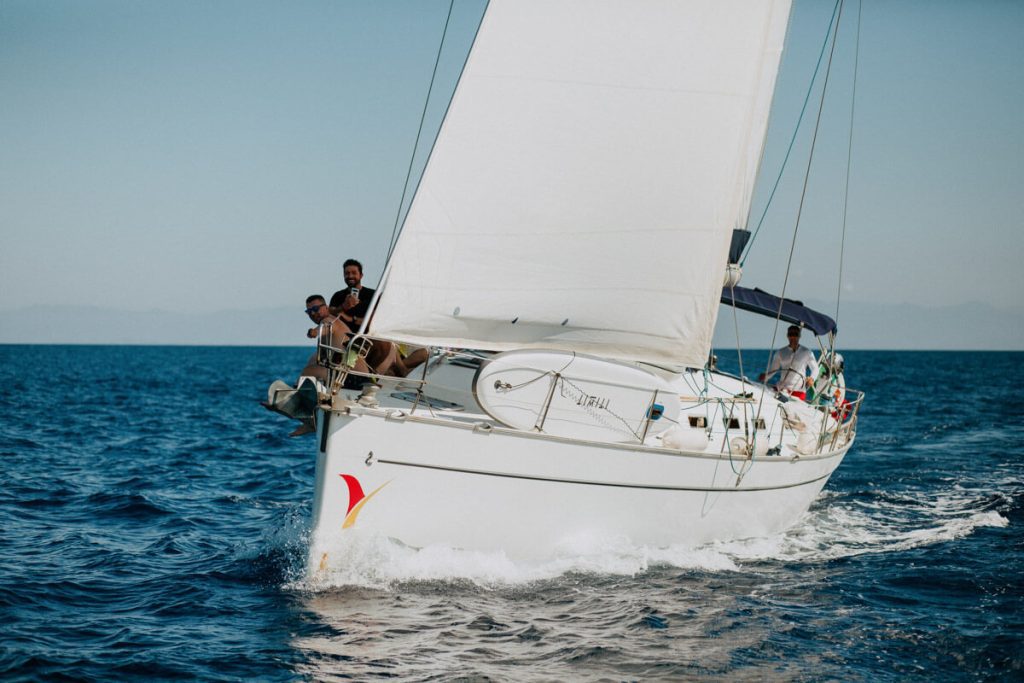 3. Our destinations
Whether you like to enjoy your vacation as a lone wolf away from people or you feel the need to mingle with the tourists, we have three of Europe`s top sailing destinations designed to cover your needs: Greece, Italy and Turkey. We`ll let you choose which one you like best, but here are some tips.
As we all know, Greece is loaded with islands of all sizes so we tailored two routes for everyone`s taste. The Wild Route in the Ionian Islands, where the main focus is keeping off the grid and discovering de unspoiled side of Greece around islands like Meganisi, Kefalonia, Kastos and Kalamos. And the Saronic Islands Route, where we try to keep it a little more in check with the traditional side of Greece and give you just the right amount of mass tourism you can handle while discovering Poros, Hydra or Dokos.
Families with children are not forgotten, so we made a route especially for them: KidSailing in the Ionian Islands, but designed for their needs with fun activities and less sailing miles.
If you feel like experiencing the Italian glam, then the Aeolian Islands are the perfect destination. These 7 volcanic islands are generous in contrasts, from black sand beaches on Vulcano Island, to the green shores of little Panarea. Lipari has the best narrow streets to get lost while enjoying a gelato and Stromboli gives you the once in a lifetime opportunity to hike on an active volcano.
Our latest addition, the Wild Route in Turkey is all about nature and disconnecting from modern world. The Dodecanese Islands are the sailing paradise for those seeking the ultimate hideout from mass tourism. Places like Bozukkale Bay, Korsan Bay, Symi Island, Kocabahçe Koy harbor hidden bays, empty beaches, breath-taking views and the perfect waters to snorkel all you want.
4. Our events and boats
So once you decide on a destination, the next step is to choose how you want to sail: flotilla or private. The flotilla events take place on fixed dates and you`ll have to book a spot on the boat with other random people if you can`t convince your friends or family to join you. So make sure your social game is strong because you`ll get to make new friends. Our private events, on the other hand, lets you choose the date and the people you take with you. So convince your loved ones that a sailing holiday is the best option this summer.
Regarding our boats, we only use sailing yachts, which can be a monohull or a catamaran. Both are around 39 to 54 ft long and can accommodate from 8 to 12 people. All the sleeping areas, or the cabins as we like to call them, are under the deck and each one houses 2 people, either in bunk beds or in double beds.
So now that you have all the information you need, there is nothing stopping you from making a change this year and go on a sailing holiday. Once you experience the freedom and the serenity boat life offers, you`ll notice it`s hard to switch back to your old ways of vacationing.